The dress to make your heart race!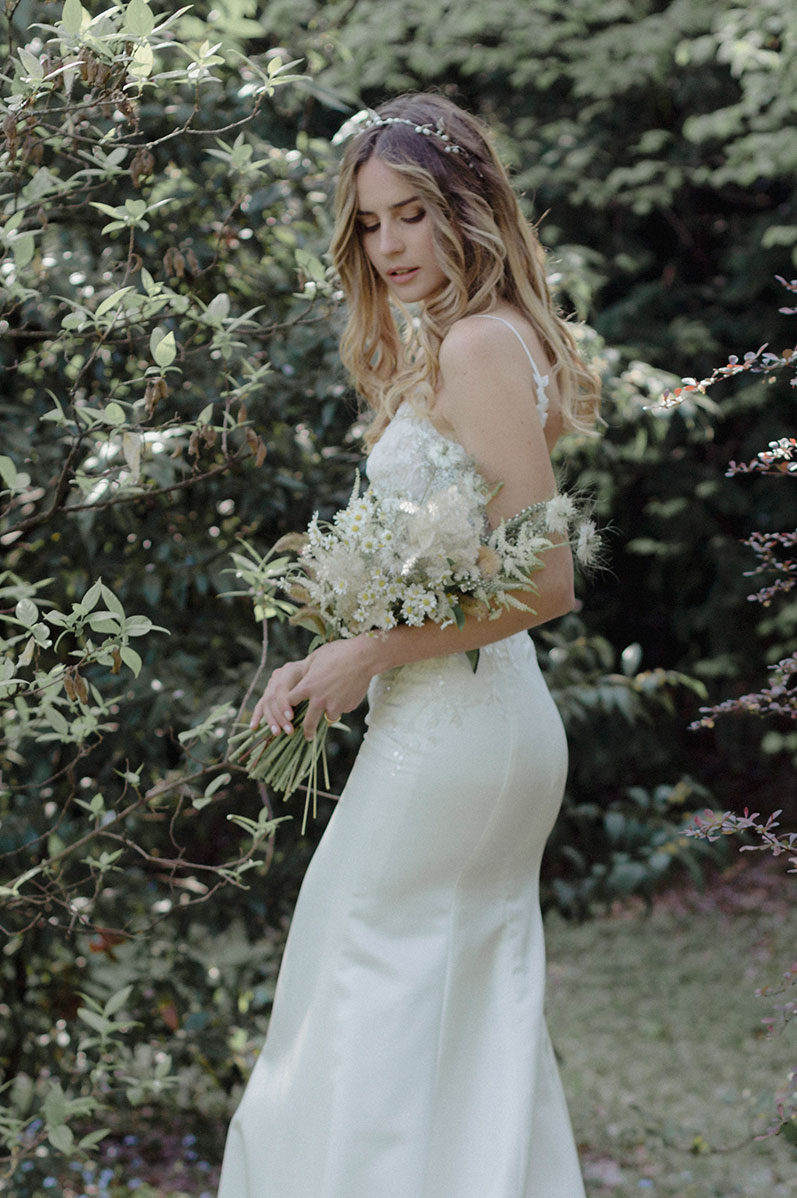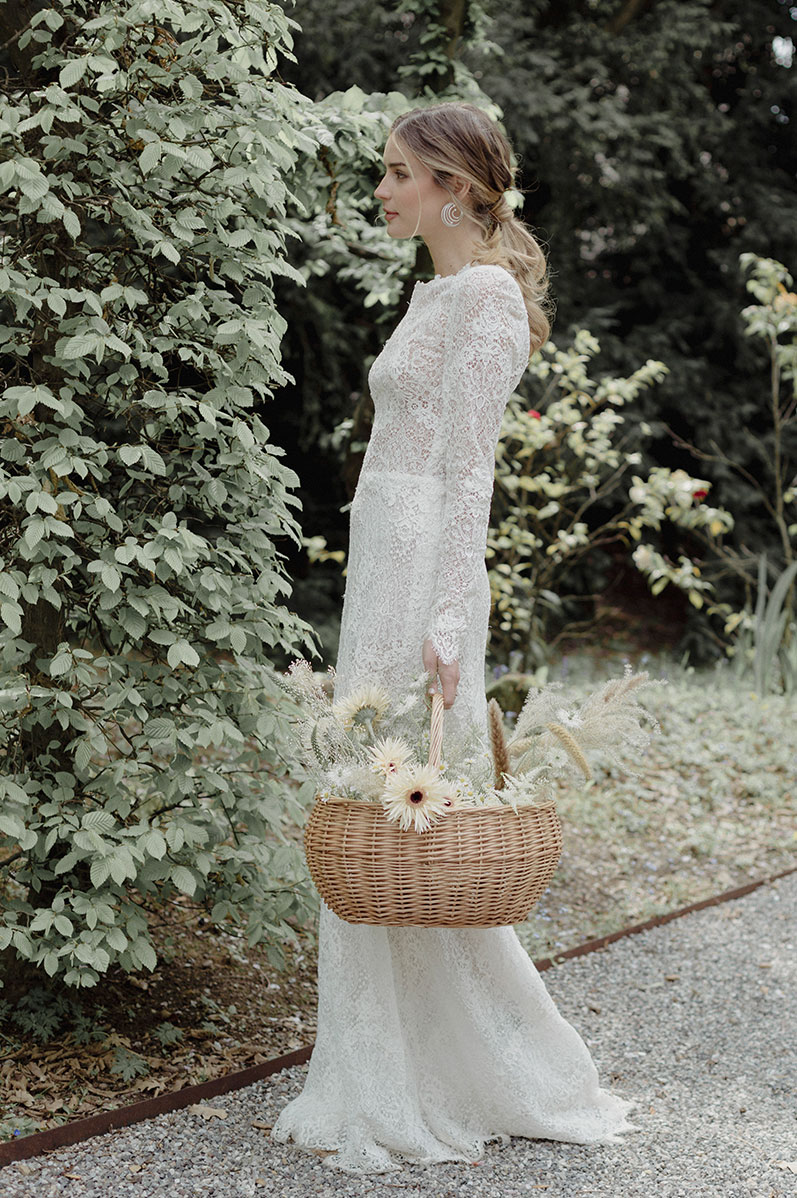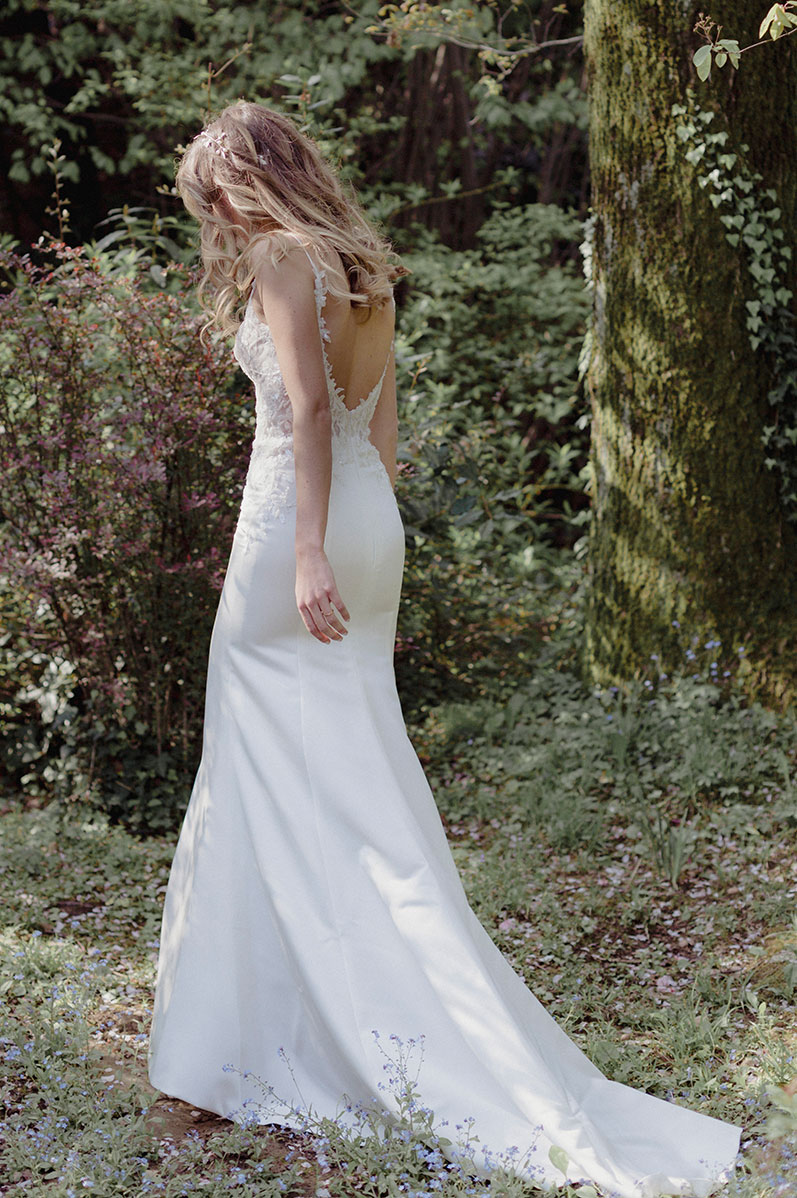 The Rustic Bride seeks a chic and refined gown which will fit in with her rural feel yet still has an elegant look for the ceremony. Some lovely lace details and a few fresh flowers here and there are key. For the Rustic Bride, Atelier Emé offers the Vanessa dress,

a romantic rebrodé lace gown with delicate transparencies and a sensual neckline at the back framed by scalloped lace, or the Amabel dress, a sophisticated sheer embellished tulle bodice with a plunging neckline that emphasises the décolletage and spaghetti straps.

The elegant shiny satin skirt with tailoring envelops the silhouette.
DISCOVER THE RUSTIC GOWNS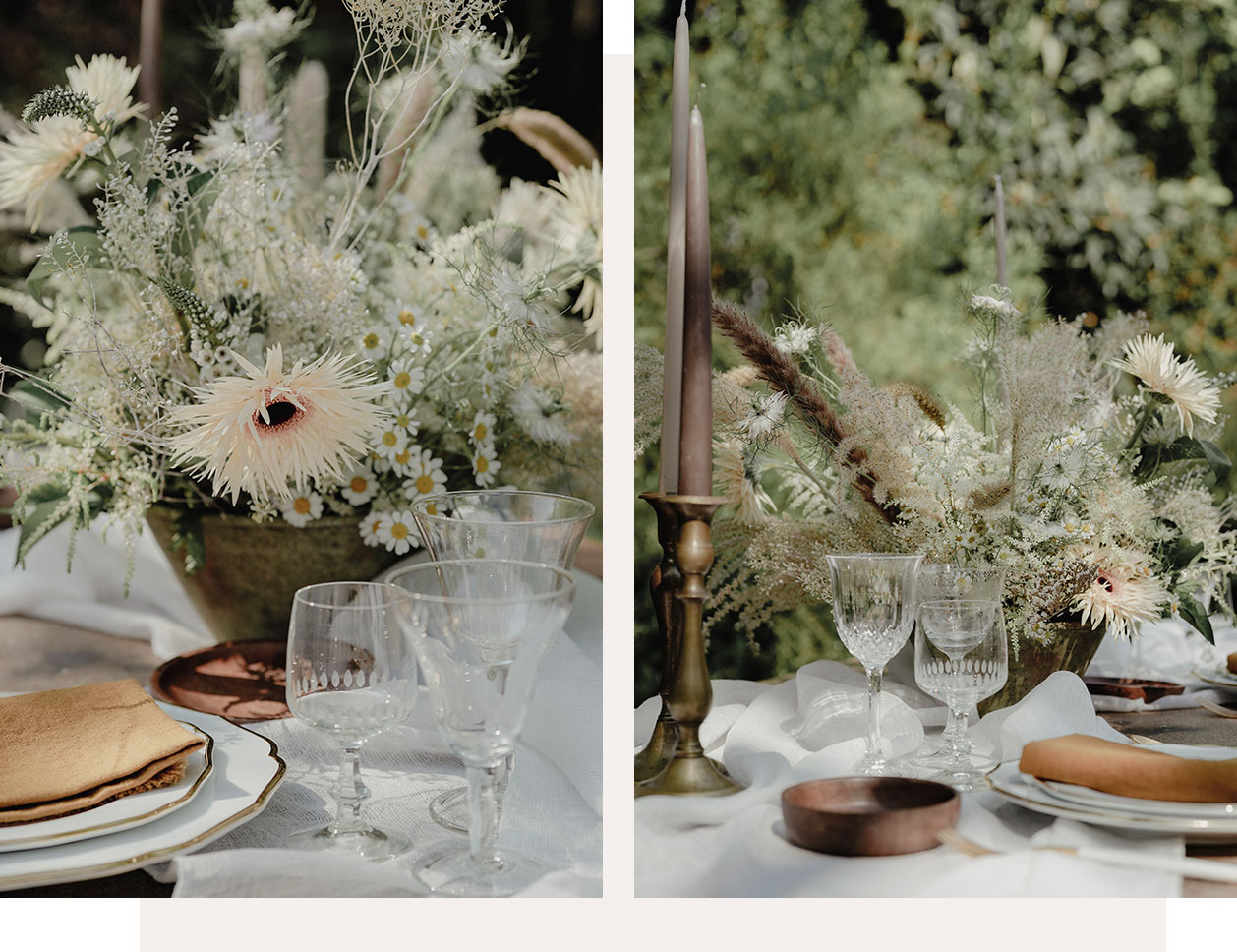 Table setting inspiration for you!
Anna Frascisco, a wedding planner with over twenty years of experience, recommends a setting where nature takes centre stage for the Rustic Bride. The colour palette features pastel shades, shapes are soft and haphazard. On the table, favour the choice of linen or cotton for table linens and crockery that is sophisticated in its detailing.

And Silvia, who created the wonderful institution of Osteria Scotti with her family, suggests an elegant meal linked to rural themes: wild herbs and flowers as a starting point for the menu, honey and jasmine to refine and decorate.

The choice of flowers to tell your love story!
Sofia from Il Profumo dei Fiori has some interesting advice about choosing flowers for your wedding day!

For the Rustic Bride, fresh wildflowers such as Camomile, Nigella, Lysimachus and Gerbera Pasta are essential, along with dried flowers such as Miscanthus, Tlapsi and Panicum. An apparently simple yet never predictable mix.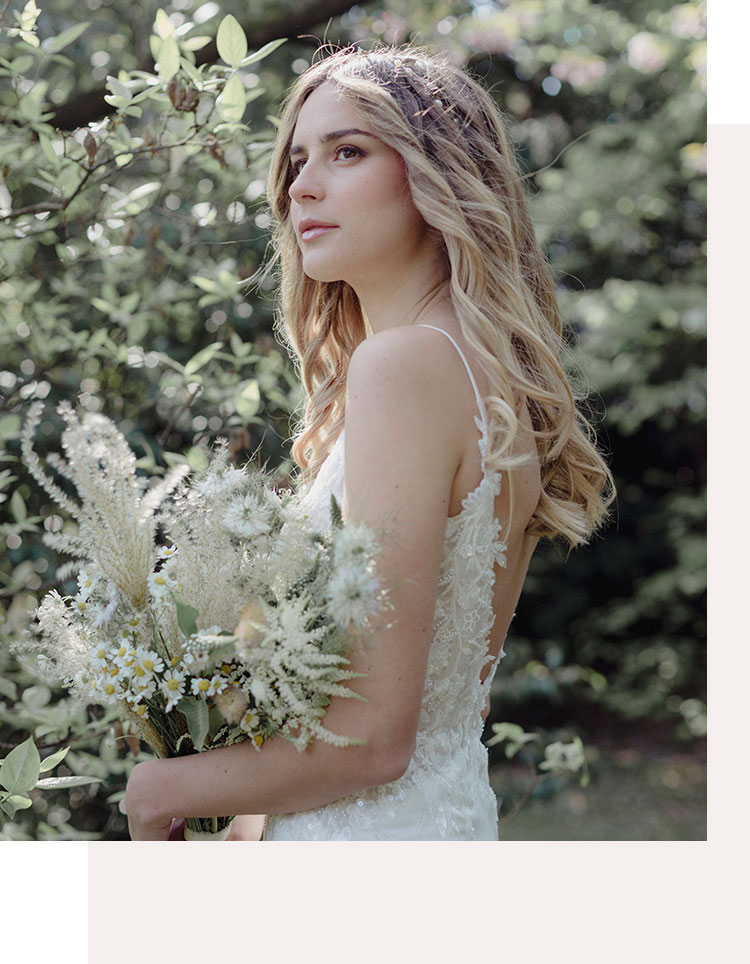 Hair and make-up for the most special day!
Sinatra Profumerie, a business in Turin that takes care of bridal hair and make-up all over Italy, tells us that the Rustic Bride wants to enhance her beauty by looking as natural as possible with make-up that can't be seen: the nude look!

For the eyes, warm and neutral shades in imperceptible tones of apricot and beige. The real star of this make-up look is the complexion: get the perfect glow with some peachy colour on the cheeks. Enhance totally nude lips with a coat of gloss for a little radiance.

The Rustic Bride is also simple in her hairstyle: wavy styling with hair worn down can be adorned with floral decorations and accessories that evoke natural elements, perfect for emphasising the look in a simple manner. Alternatively a low ponytail is discreet and simple but very elegant, with the parting in the middle and a slightly messy look with a few wavy locks hanging loose.

Jewellery straight from the heart!
Salvini creates jewellery that encapsulates a story of elegance, style and sophistication, making you a true vision of beauty.

The brand interprets rustic style, thinking of the poetry of flowers and the charm of starry nights.
This is why the perfect collection is #SalviniConstellation, with its sophisticated, circular and welcoming creations: the ring and earrings in diamonds and white gold express balance, grace and good taste.
The Wedding Rings!
Traditionally, the groom or his family pay for the bride's ring and vice versa, but nowadays many couples choose and buy their rings together. Whoever is paying for them, choosing the rings is a moment that deserves to be shared. There are no rules for choosing a ring: a simple band in yellow gold is the most traditional, while rose gold has a sophisticated retro vibe. A gold ring reflects originality, whereas one with diamonds conveys taste, class and romance.

Salvini's Battito collection has been created to celebrate love: a classic of traditional jewellery, redesigned in detail so that only to the couple does it reveal the ultimate symbol of love: the heart. A timeless symbol that accompanies the newlyweds in the most important decision in their lives.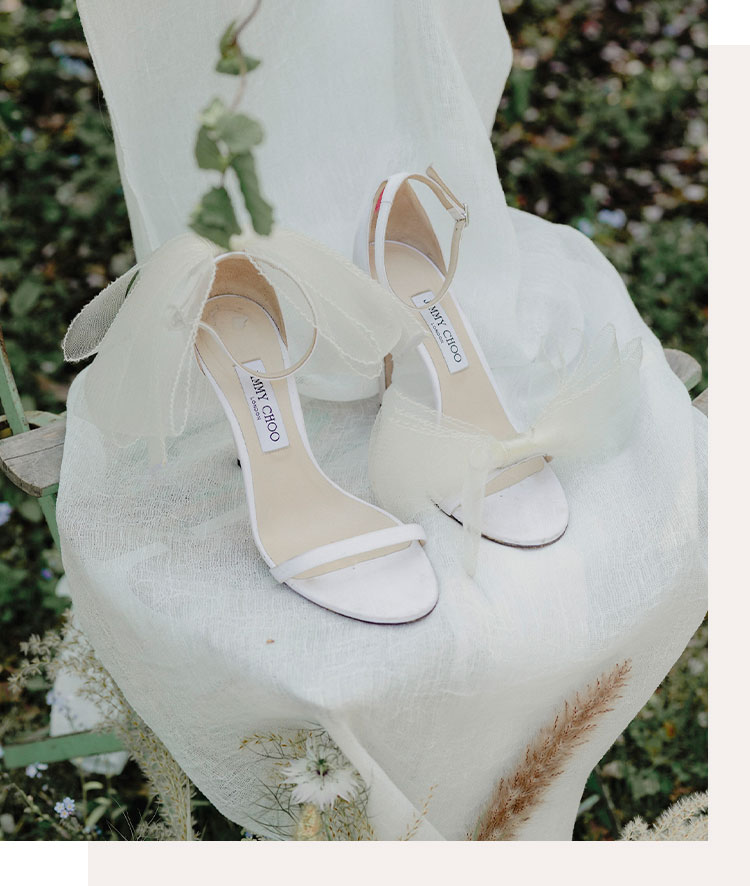 The most chic shoes for the day you say I Do!
The "Aveline" sandal in silk satin with an asymmetrical maxi grosgrain bow, from the Jimmy Choo bridal collection, is the perfect marriage of sophistication and spontaneity, to give your dress an unusual touch that nobody would expect!

This style is a perfect souvenir of your wedding day, as you can wear it again to other occasions and relive all the emotions of your special day!

Dreamy stationery!
The guys at Pop The Question have created a range of stationery in line with the desires and requirements of the Rustic Bride.

The Rustic Bride is a bride who looks for materials and service that fit her style in touch with nature. Seemingly simple and not very elaborate, but not bare.

The save-the-date is printed on vellum paper, with warm colours, enclosed in a handcrafted box produced using renewable conifers and dyed and cut by hand. The details of the save-the-date are made using pressed sealing wax in a scorched earth colour with hues of bronze.
A team of experts
Thanks to the experience of our team of designers and seamstresses, you can create a dress as unique as you are.
Book an appointment now to create a dress as unique as you are.
Book an appointment